Manager or Senior Manager Data Science – Solution and Business Development
Manager or Senior Manager Data Science – Solution and Business Development
Data & Analytics is one of the fastest growing areas at KPMG. You will work in a multi-disciplinary team and an international environment, helping our clients by applying Data Analytics to their most complex challenges.
Location: Zurich
Start date: As soon as possible
Responsibilities & Profile
Your responsibilities
Understand and address our clients most challenging questions by defining and building advanced analytics cases and models to enable a better informed decision-making process
Meet and interact with numerous internal and external clients' representatives from different business areas to identify their business challenges and put them into an analytics context
Work with clients to define, scope and managed business cases for data science. During the delivery phase, work with our data analytics team to deliver these projects
Coach and train data analytics specialists in the data science space in order to enable them to deliver data science projects
Support the expansion of the data science solutions and related business development activities
Strengthen team capabilities, develop analytics assets and build data science cases
Bring in proven hands-on experience and take a major role in the development of our new analytics technologies including Machine Learning, Deep Learning and Statistical Modelling
Gain insights into the varied landscape of data analytics, IT and business processes at our national and international clients
Your profile
More than 5 years of professional experience with solution and business development in the data science area, ideally at a Big 4 company
Bring in a strong vision and proven experience in developing client-use cases in the data science area, commercializing these in the market.
Profound technical experience in Data Science, Machine Learning and Statistics
Proven experience in database queries using SQL Server/Oracle SQL for data transforming process
Proficiency in using one or more of the following: R, Python, Azure ML studio, SAS, Theano, Caffe or Torch, QlikView, QlikSence or Microsoft Power BI
Excellent verbal and written communication skills in German and English
Great enthusiasm for analyzing process-relevant business challenges and tackling complex projects
Not afraid to take on responsibilities; work well under pressure and manage changing priorities
You are a solution-oriented person that can frame client challenges in a data science use case and define the required activities to run the use case
You have hands-on experience in the data science field and have already worked on several data science use cases
Targeted career development and internal and external attractive training and further education options

Possibilities for global and Switzerland-wide mobility across all sectors and locations

25-30 days of leave, option for compensation of overtime (with the exception of management staff); management staff receive an additional 4 to 6 days of leave

Maternity leave of 16 weeks, paternity leave of 5 days and free advice from the external family service
Ancillary benefits may apply to certain positions (e.g. fixed-contract positions).
KPMG as an employer
Your future team
The team supports industrial and financial services companies in analyzing and evaluating their business processes in terms of functionality, efficiency and risk management. At KPMG, your possibilities are as manifold as the people who work here! This is why you can count on receiving continuous training and a value-based corporate culture within our international network. We keep every person's need and potential in mind and are a great advocate for career development.
About KPMG
KPMG is one of the leading financial audit and advisory services firms in the world. Its international network makes it possible for KPMG to offer clients clear and consistent solutions locally thanks to cross-border know-how. KPMG Switzerland advises both internationally active firms and regionally active SMEs. In addition to quality and industry knowledge, one thing is key for us: client proximity. Together with our clients and organised around their needs, we develop tailor-made solutions in the audit, tax and advisory fields, within the framework of the rules of independence.
David Boll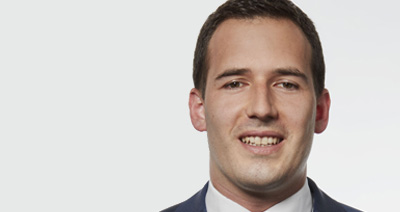 To apply for this vacancy, please provide your cover letter, CV and all relevant certificates. We look forward to receiving your application.