Senior Consultant Global Mobility Services
Senior Consultant Global Mobility Services
Location: Geneva
Start date: As soon as possible
Do you want to work in a truly international environment? Do you want to be part of a young and dynamic team that is recognized as a global leader in what they do? Do you want to have diverse career opportunities, both in what you do and where you do it? This is what you will be part of if you join KPMG's Global Mobility Services team.
Location: Geneva
Start date: As soon as possible
Would you like to apply? Send yourself this vacancy by e-mail and apply from the comfort of your home.
Responsibilities & Profile
Your responsibilities
Advising clients on a wide range of Swiss tax issues including tax residence matters, cross-border tax implications, social security matters, taxable benefits and tax reconciliation processes
Preparing Swiss tax returns with international exposure, tax equalization calculations and tax projections for individuals
Managing a portfolio of approximately 150 individuals, conduct arrival and departure meetings with our internationally mobile private clients
Preparing and reviewing correspondence with tax authorities in relation to tax notices and/or audits for expatriates
Negotiation with the tax authorities regarding tax ruling, tax appeals and complex tax situation
Communicate with individual taxpayers and other KPMG offices, as well as HR and Payroll contacts at our corporate clients;
Your profile
Bachelor or Master in Law or Business Law preferably with major in tax
At least 2 years of experience in individual tax, ideally with a Big 4 or consulting background
Solid experience in advising international clients
Fluent in French and in English. German is a plus
Dedication and motivation to achieve high standards of client service, excellent organizational skills and ability to work under tight deadlines, initiative
Be able to demonstrate team spirit and able to work in a multicultural environment
Analytically minded
Solution-orientated
Targeted career development and internal and external attractive training and further education options

Possibilities for global and Switzerland-wide mobility across all sectors and locations

25-30 days of leave, option for compensation of overtime (with the exception of management staff); management staff receive an additional 4 to 6 days of leave

Maternity leave of 16 weeks, paternity leave of 5 days and free advice from the external family service
Ancillary benefits may apply to certain positions (e.g. fixed-contract positions).
Your future team
Global Mobility is about companies moving their employees around the world. This gives rise to all sorts of considerations, including how these mobile people are taxed, what is the best way to structure compensation and assets to reduce tax and how the individuals and their employer comply with the various income tax and social security laws in force around the world. KPMG's GMS team has a global network of over 4,000 employees in over 140 countries. The Swiss practice focusses on all aspects of mobility including tax compliance and advisory and providing support to our clients' HR and Tax teams. We also manage global KPMG services to many of the largest Swiss headquartered companies. Further, we have developed leading edge technology solutions for not just the Swiss but the global market. We are multicultural, we are forward-looking, we are driven and this has resulted in us becoming one of the leading Global Mobility Services practices within the global KPMG network.
About KPMG
KPMG is known for providing clear and consistent solutions in the areas of auditing and advisory services. The broad palette of services across many subject matters and industries allows the provision of multidisciplinary services from a single source for our clients on the one hand and diverse careers and development options for our employees on the other hand. Our dealings are fair and frank and we strive to always look at the results of our work through the eyes of our clients. At KPMG, we are aware that if we add value for our clients, we also do the same for ourselves.
Our reasons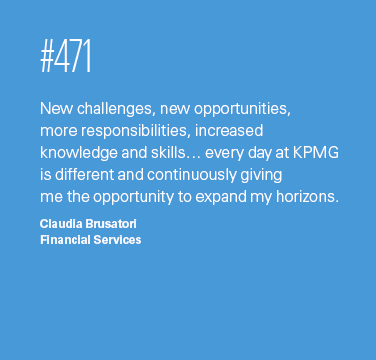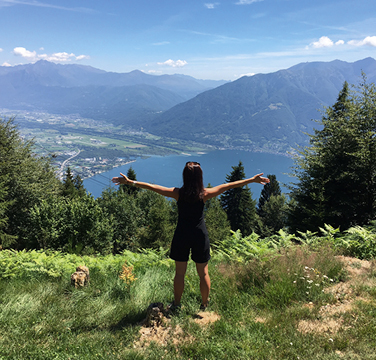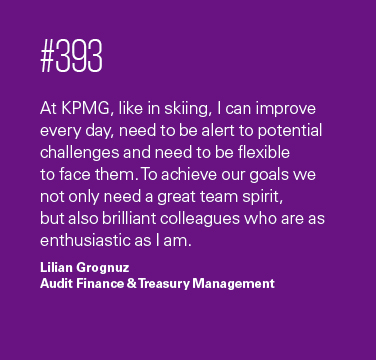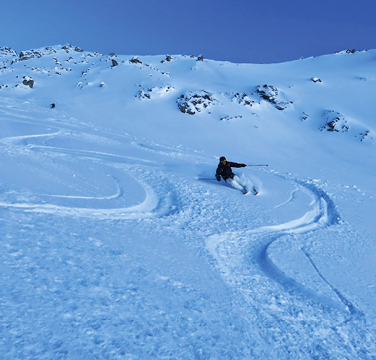 Capucine Foessel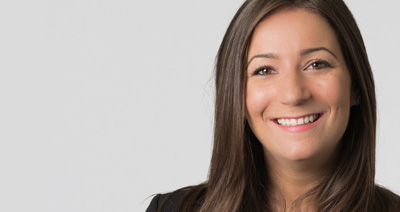 To apply for this vacancy, please provide your cover letter, CV and all relevant certificates. We look forward to receiving your application.